Blog Archives - INTO THE LIGHT
In honor of International Holocaust Remembrance Day, I share Saul Gonzalez's recent interview with Kalman Aron on Public Radio International's broadcast, The World. Saul visits Kalman at his L.A. studio and learns how art has kept him alive, not just during the Holocaust, but throughout his lifetime.
"When you step inside artist Kalman Aron's modest apartment in Beverly Hills, a lifetime of creation surrounds you. The walls are covered in paintings and finished canvases are stacked on the floors, a dozen deep. The paintings range from portraits to landscapes to abstract works. They're just a fraction of the roughly 2,000 pieces Aron says he's created over the decades."
Click on the image below to listen to the full broadcast:
I have exciting news! A documentary film about Kalman Aron is going to be made based on my book, INTO THE LIGHT: The Healing Art of Kalman Aron. You may have seen the recent article in the Jewish Journal about Kalman's life: "Saved by Art: How One Man's Skill Got Him Through Seven Nazi Camps and the Difficult Years that Followed." (see video)
I am partnering with Steven C. Barber of Vanilla Fire Productions (see details below), and I ask for your help and ideas to raise $500,000 to shoot, write, edit, grade and score a 70-minute feature documentary. Think about friends, family foundations and organizations that might fund it.
Richard Dreyfuss has been approached to narrate. Norman Lear, renowned American TV writer and producer is on board as a producer. Edward Lozzi, verteran Hollywood public relations executive and former White House Press staffer, and one time publicist to Kalman Aron, is also on board as a producer.

Please consider making a pledge. This is an opportunity to bring Kalman's inspirational story of overcoming evil and reclaiming his light to a much wider audience. I look forward to hearing from you by email or call me at 202 285-2200.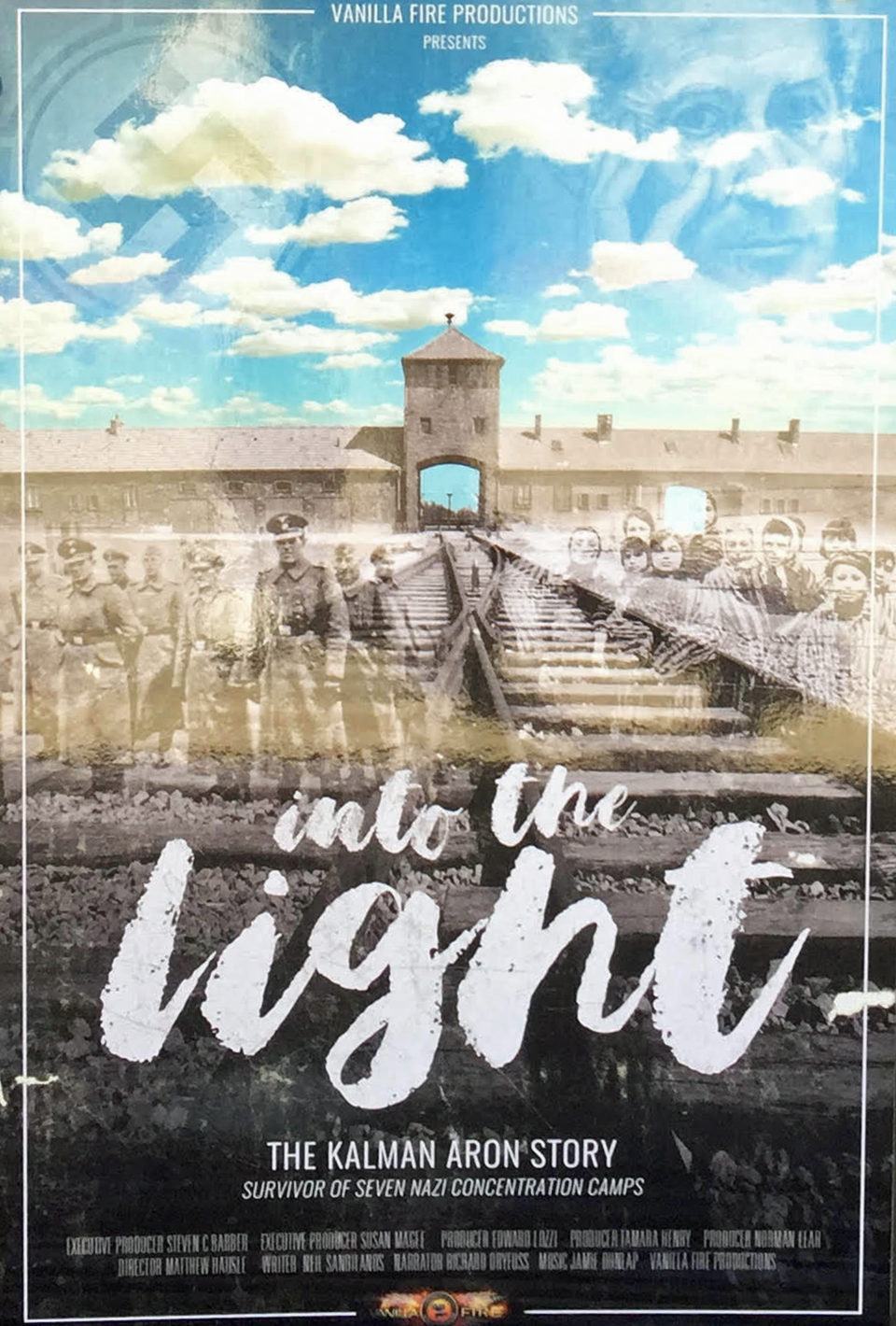 About the filmmaker:
Filmmaker Steven C. Barber is CEO of www.vanillafire.com, founded in 2006. Mr. Barber has enlisted the talents of Josh Brolin, Kelsey Grammer, Ed Harris, Dan Aykroyd and John Savage to narrate six feature documentaries. Three of these films made it to the Oscar short list.
Vanilla Fire Productions has been featured on CNN, ABC, CBS, FOX, BBC and in the New York Times and countless media outlets around the globe.
Vanilla Fire's new film, "Into the Light," is the company's boldest and most far-reaching film to date. The story revolves around a 93-year-old Holocaust survivor named Kalman Aron. Mr. Aron survived seven Nazi camps by using his God-given talent as an artist. He would continuously draw the Nazi guards and commandants to get an extra piece of bread. This will be Vanilla Fire's fourth run at Oscar in the feature film category along with best song and best original score.
Kalman Aron's story continues to be heard. Eitan Arom of the Jewish Journal writes about Aron's remarkable past and the comfort he finds currently in art to soothe the loneliness he is experiencing at the age of 92:
"Apart from his wife and a part-time caretaker, it's his paintings that keep him company.

'I don't have anybody to talk with,' he said. 'All my friends are gone. I had probably 15 friends. They were much older than me. I was the youngest one. And then suddenly, nobody here. I have drawings of them. A lot of drawings in the back there. Filled that room downstairs, filled up completely.'
At the age of 92, Kalman Aron is very much alive. The article quotes him as saying:
"'Friends of mine, they get old and they don't know what to do, and they die of boredom,' he said in his dining room, his eyes widening with intensity. 'Boredom! And I'll never die of boredom, as long as I have a piece of paper.'"
Kalman continues to be as dynamic as the light and color in his paintings. To read the full article, click here.